[av_textblock size=" font_color=" color="]
User Targeting
[/av_textblock]
[av_textblock size=" font_color=" color="]
Once you defined the content to show, how it looks like (depending on the selected template) and how it will be visualized to the user (inline, popup, ecc.) is time to decide to which users your content will be visible!
WP MoneyClick has a powerful targeting engine, where you can define multiple conditions that must be true to have the content visualized to your users.
Here an example of parameters/conditions you can put for each content item you define:
An expiration date
The device type (desktop, smartphone, tablet, iPod / iPhone / iPad, …)
The device platform (Windows, Mac OS X, Linux, Android, Apple iOS, …)
The browser type (MSIE, Chrome, FireFox, Safari, Opera, …)
The user language (1 or more languages)
Specific URLs (the content will be visibile only in that pages)
HTTP referrers (check from where the user is coming from)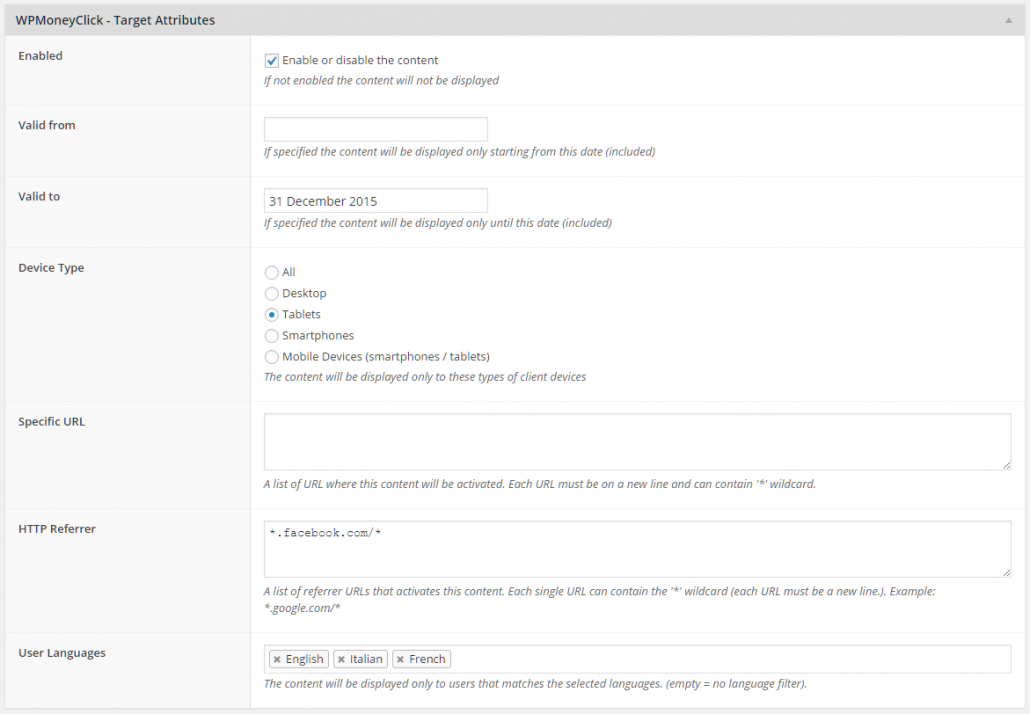 All these conditions can be combined together. So for example in a particular page you can decide that italian-speaking users coming from Facebook.com will see a particular content, while english-speaking people will something else… and so on!
[/av_textblock]